Toronto, Canada, September 13, 2019 – GlobalTrade Corporation (GTC) has announced today that GE Capital Aviation Services (GECAS) has selected @GlobalTrade Multi-bank Trade Finance Platform for digitization of its incoming guarantees.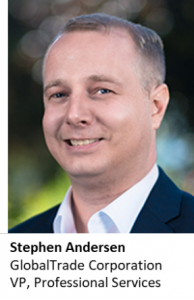 'It's great to partner with GTC on the Guarantee Global electronic database that will enhance our controllership & reporting of SBLC's' said Seamus Fitzgerald, SVP of Global Operations. 'The facility will allow us to improve our process and eliminate waste,' Fitzgerald added.
'We are very happy that GECAS has selected our technology.' said Stephen Andersen, VP Professional Services, GTC.  'We have several clients in the Aerospace and Defense sector, but this is our first deal in the Aviation Leasing space.  We are looking forward to working with the GECAS team to streamline their internal processes and to electronically connect them to their financial institutions.'
About GECAS
GE Capital Aviation Services (GECAS) is a world-leading aviation lessor and financier. For over five decades, we have solved our customers' challenges and helped their businesses to thrive. Whether your need is for narrow- or widebody aircraft, regional jets, turboprops, freighters, engines, helicopters, financing or materials, our name has become synonymous with trusted relationships, domain expertise and delivering on our promises. GECAS offers a broad array of financing products and services on these assets including operating leases, purchase/leasebacks, asset sales and servicing, and airframe parts management. GECAS owns, services or has on order more than 1,850 aircraft (~1,500 fixed wing/ ~350 rotary wing) and serves ~250 customers in over 75 countries from a network of 20 offices around the world.
About GTC
GlobalTrade Corporation (GTC) is a software developer and application service provider whose product solutions improve the world of trade finance and trade services. The @GlobalTrade systems help buyers, sellers, traders, and financial institutions communicate faster and more efficiently while reducing risk and improving monitoring and control. Our customers include both business enterprises that need consolidated access to multiple banks as well as financial institutions that require supply chain finance solutions to meet their clients' needs. @GlobalTrade™ is a registered trademark of GlobalTrade Corporation. For more information please visit www.globaltradecorp.com
Media Contact